Powersports Waterproof Duffelbag - Everglades
The perfect choice for riders looking for a heavy-duty, weatherproof bag to keep their belongings safe and dry. 
Produced from 500D PVC and featuring a roll-top design, this bag is built to withstand even the heaviest rain. 
It also includes reflective details for improved visibility at night, straps to fasten it to a vehicle, and a coupling feature to use up to 2 Kronox duffel bags together.

--------------
Orange & Black | 40L | UPC 850017275416 | SKU 3812-0010-40
Orange & Black | 60L | UPC 850017275423 | SKU 3812-0010-60
Orange & Black | 25L | UPC 850017275492 | SKU 3812-0010-25

• IPX6 Waterproof level (Prolonged protection against heavy rains).
• Roll-top design to prevent water leaking from the opening.
• Included straps to fasten it to your motorcycle or ATV.
Product Style
SKU
Barcode

60 Liters

40 Liters

25 Liters

3812-0010-60

3812-0010-40

3812-0010-25

850017275423

850017275416

850017275492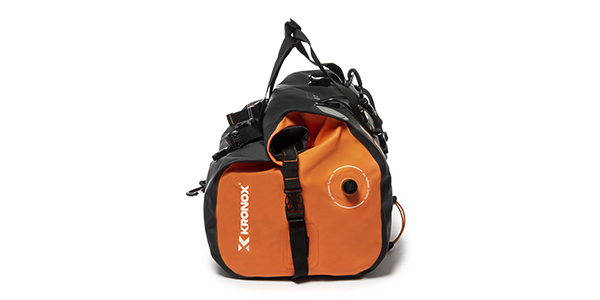 Waterproof Protection
A sturdy 500D PVC fabric, with heat sealed seams and a roll-top closure design, ensures a qualification of IPX6 (Protected against high-pressure water stream from any angle. Just not suitable for underwater activities)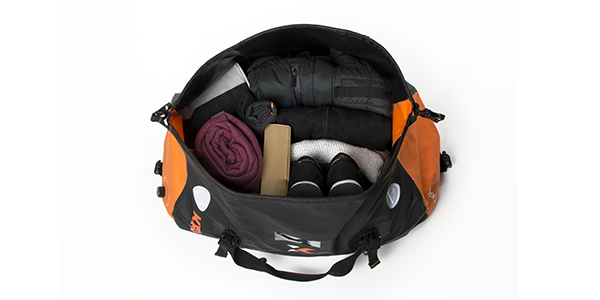 Large capacity
A wide-mouth opening and a large interior gives you plenty of room for your camping and motorcycling gear plus all the clothes you will need for the trip.
Medium (40L) & Large (60L) sizes available.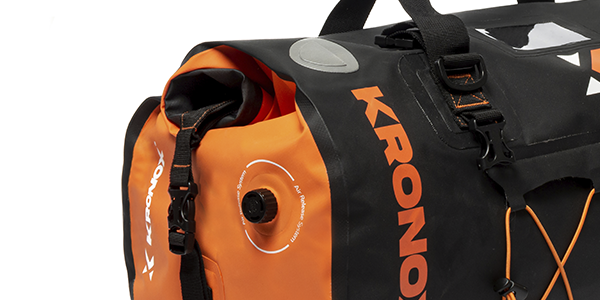 Well Built
Performance bags that are built to last. Strong buckles and seals combined with quality self-fastening closure. Covered by our 1 year warranty for any fabrication malfunction.
Waterproof Bag is Waterproof, but..
This bag is waterproof and the construction makes sense. The straps, venting and roll top are all functional and intuitive. On its maiden voyage on my bike it kept its promise and was relatively easy to secure.My concern is with the durability of this bag. On its first trip there are a few areas where the bag was hit by run-of-the-mill road detritus which appear to have removed small amounts of the waterproof surface from the bag. Those spots are fraying. It did keep its seal but I am concerned about future durability of the bag.
Pretty useful dufflebag
Pros/Cons
- 60L version is pretty big that doesn't fit on a street/naked bike (CB1000R)
Easy to use
Got caught in the rain and...it is water proof!
They work really well for motorcycle camping
Great product works really really well glad I Purchased it haven't got a chance to use it yet but I'm planning on using it in about a month